Our History
In 1936, at age 26, Vernon Jenkins took over the operation at Barnes Motor Company, the Ford Store located in Hopkinsville, KY. This was because the previous owner, Blondie Wallace, left to run the new Ford Store in Sturgis.
Because of the Draft, Vernon Jenkins joined the Army in 1942. In a letter written home to his friend Aubrey Lyle, Vernon is quoted saying: "If this war is ever over, I'm going to have a Ford Dealership, and I want to us become partners." (Referring to WWII)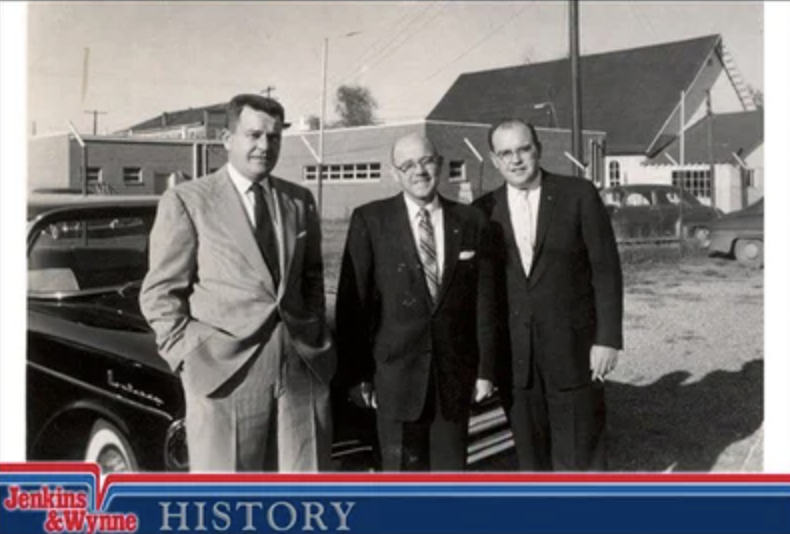 Although Vernon was not yet released from the Army for another two years, he bought his first dealership in Springfield, TN. At the time, he had a choice of two different locations: Jeffersonville, IN or Springfield, TN. He chose TN! In 1944, while still in the Army, Vernon and friend Will Summers purchased a Ford Dealership and named it Summers & Jenkins Motor Company.
While Vernon was away with Army duties, Evelyn Jenkins, Vernon's wife, chose to work at the store until Vernon got out of the Army. In 1948, he sold that Store, went to Franklin, KY, and he purchased the Ford Dealership there. He talked to MB 'Briz' Wynne, who was a Feed Salesmen, and encouraged him to go into business. They became business partners and opened Jenkins & Wynne. In the beginning Jenkins & Wynne sold Ford Cars, Ford Trucks, and Tractors. Vernon was living in Springfield, TN at the time and was driving back and forth. He would call on the farmers in his area and deliver what they needed on his way home.
In December 1953, Vernon and Briz sold the Franklin, KY store and moved to Clarksville, TN with the Lincoln Mercury franchise. Jenkins & Wynne Lincoln Mercury opened in December 1953. At that time, it was located on Madison Street. It was an inauspicious beginning, with less than $100,000 in inventory and eight employees.
But the business quickly established a reputation for fair dealing, honesty, and good service- attributes not always associated with car dealerships. And by the end of the first year, sales totaled around $1 million.
About the same time they acquired the Lincoln Mercury franchise in Clarksville, they also had the Lincoln Mercury franchise and a Volkswagen Franchise in Florence, AL. While in Florence, AL, Vernon met Jim Sloan who was a Manager of Associates Financing in Florence. They soon hired Jim Sloane as a Manager for the Lincoln Mercury store in Florence, AL.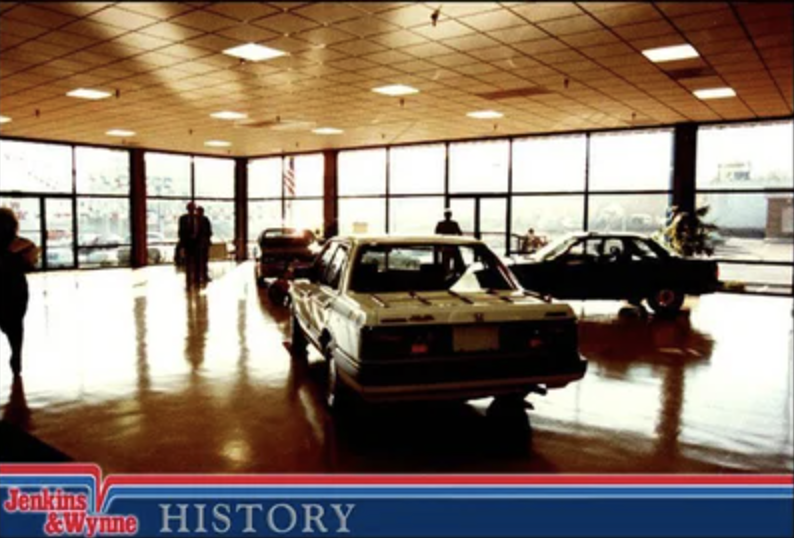 In the late 1950s, Clearance Carney was the Ford Dealer in Clarksville. Mr. Carney sold Carney Ford to Jim Kerney, who was a Ford Factory Rep. at the time. Jenkins & Wynne acquired the Ford franchise from Jim Kearney in 1959. A new Ford Store was built on College Street to join the Lincoln Mercury store. Jenkins & Wynne Ford Lincoln Mercury was born! When they sold the Franklin, KY store, Vernon and Briz brought Warren Hendricks and IL Gammons from Franklin, KY with them to Clarksville. Both of these gentleman stayed over 30 years (close to 40) and retired from Jenkins & Wynne.
In the early 60's, Jenkins & Wynne Volkswagen in Nashville was the largest VW store in the southeast. Around 1961, Jenkins & Wynne acquired Ben Page Ford in Goodlettsville. Once this purchase was complete, Vernon made plans to build a new Ford dealership at the corner of Nolensville Rd and Thompson Ln in Nashville and relocated the Goodlettsville store to Nashville. They named this store?Crown Ford.
Wilber Kates was moved from Jenkins & Wynne in Clarksville to the new Ford Store in Nashville. Murray Keeter was hired soon thereafter. Murray Keeter came to work at the Clarksville location in 1962 as a Parts Counterman and then the Parts Manager.
Keeter has been an instrumental backbone of Jenkins & Wynne ever since. Vernon hired Keeter from Lawrenceburg, TN; at the time, Murray was employed by a different Ford Store. Vernon heard glowing reviews about Murray Keeter through a Ford Motor Company Rep. who traveled throughout the Region.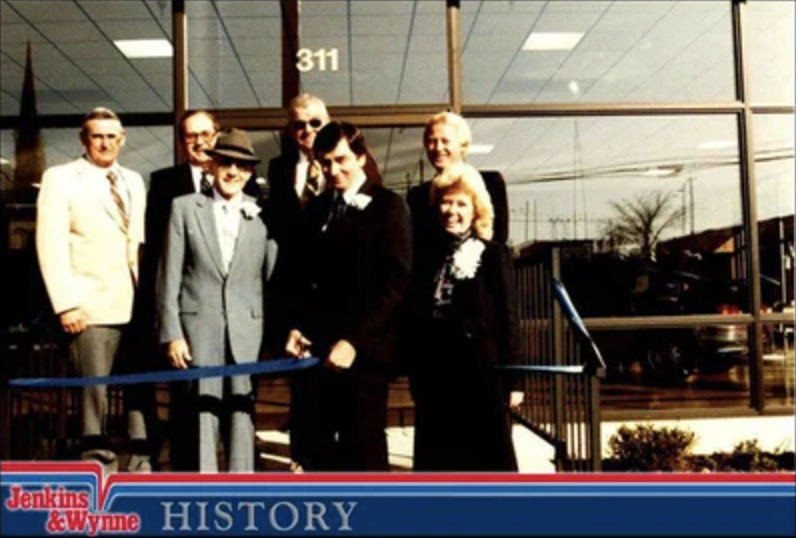 The 60's were turbulent times, not just for society but for the dealership as well. When the 101st Airborne Division deployed to Vietnam, Jenkins & Wynne lost a major chunk of its customer base. Then in 1967, a fire destroyed the Ford building.
At a later date, when the Interstate System was being constructed through Nashville, it ended up coming right through the VW Store location.
Therefore, Jenkins sold the VW store to George Hadad and another gentleman. Mr. Wynne then moved his office into the Crown Ford location. When Vernon & Briz sold the Crown Ford location to Carl Sweeney, Mr. Wynne moved back to Clarksville, which is where he stayed until he sold his portion of the store in the early 70's.
In the mid-70's, when America was reeling from the aftershocks of the Arab oil embargo, Jenkins & Wynne recognized the potential of the small-car market.
In December 1976, they took on the Honda franchise. With this acquisition, the dealership's sign was changed again adding Honda to the mix?Jenkins & Wynne Ford Lincoln-Mercury Honda. The ISUZU franchise was acquired in January 1981.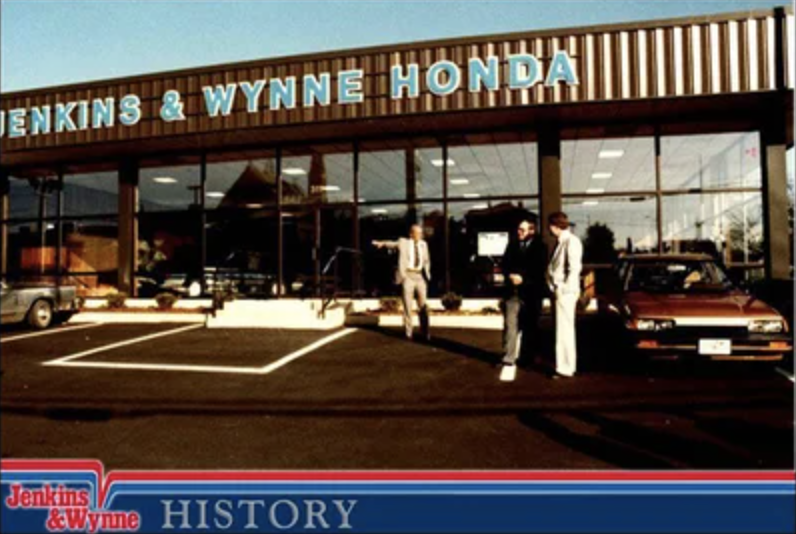 To date, Jenkins & Wynne has helped create 15-20 Dealers: spanning from Nashville, to Bowling Green, KY (Bill Quick Lincoln Mercury), to Florence, AL, to Columbia, SC (Bob Bennet Ford), and Bob Bennett LM in GA, to Sloan Ford in Columbia, TN, Brooks Jarrell in Murfreesboro, TN, Jim Ayers VW in Clarksville and Gorden Hawkins (formerly Hawkins and Corlew Chevy)…just to name a few. All worked for Jenkins & Wynne at some point in time and later became Dealers.
Current President and CEO, Don Jenkins, is the only son of Vernon and Evelyn Jenkins. Don was just three years old when his dad founded the Clarksville dealership. He has been surrounded by cars and car talk his entire life. Starting in the mid-60's, Don began washing vehicles on his Dad's lot and did this through high school. As he prepared to enter Rhodes College in Memphis, Don decided he wanted a career that had nothing to do with cars. He certainly didn't want to be a car salesman. "Car salesman wore silk suits and orthopedic shoes," Jenkins says. "I didn't have a lot in common with them." His career choice was made. He was going to become a banker.
To date, Jenkins & Wynne has helped create 15-20 Dealers: spanning from Nashville, to Bowling Green, KY (Bill Quick Lincoln Mercury), to Florence, AL, to Columbia, SC (Bob Bennet Ford), and Bob Bennett LM in GA, to Sloan Ford in Columbia, TN, Brooks Jarrell in Murfreesboro, TN, Jim Ayers VW in Clarksville and Gorden Hawkins (formerly Hawkins and Corlew Chevy)…just to name a few. All worked for Jenkins & Wynne at some point in time and later became Dealers.
But something happened that would change that decision.
In 1971, just as young Jenkins was about to graduate with a bachelor's degree in business and go to work for a bank, he received a letter from his dad. "Give me one year in the car business," it said, "just one year."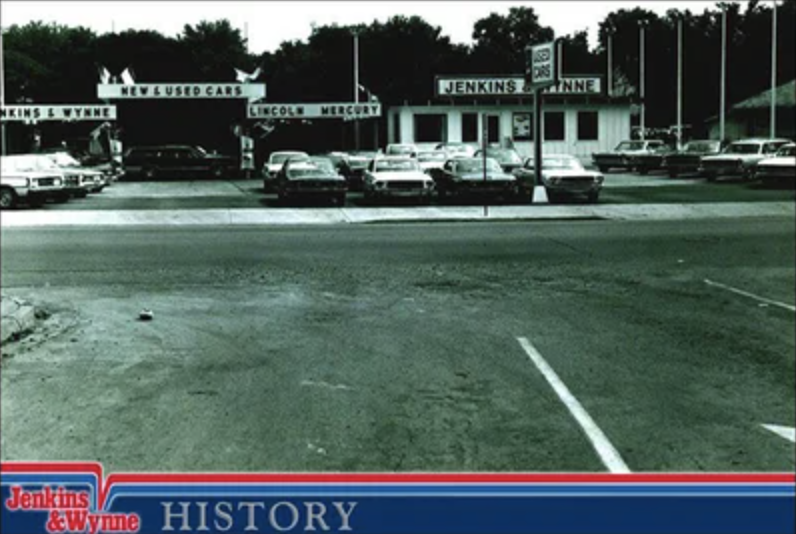 A year was all it took! "I came to the dealership and loved it," Jenkins says. Nearly fifty years later, he still thrives on the interaction with people, love for vehicles, and the challenge of running a dealership that became dear to him that infamous first year.
Vernon Jenkins continued to work at the dealership until he retired in 1985 at the age of 75. His work ethic was contagious. "Dad believed you learn by doing," Jenkins says, "and he was wise enough to let me make my own mistakes. As long as they weren't severe ones," he adds with a smile.
When he died in 2002, Vernon Jenkins left big shoes behind. He had been the President of the Tennessee Automotive Association. He won the Time Magazine Dealer of the Year award for the state of Tennessee. The criteria for this award is having highly ethical business practices and strong community involvement. 'Vernon's key to success was that he personally oversaw every aspect of the business and brought a human touch that is rare today in this business.' – Aubrey Lyle, 1997
Over the past 60+ years, Jenkins & Wynne has experienced immense growth- in property, vehicle inventory, sales, service and the number of Team Members. Jenkins & Wynne started with one building and is currently busting at the seams. Land from all surrounding properties has been purchased and borrowed to aid in the growth.
In 1992, the Truck Center was built to cater to expanding business.
In 2006, Jenkins & Wynne completed the Honda image program which updated and modernized the facilities.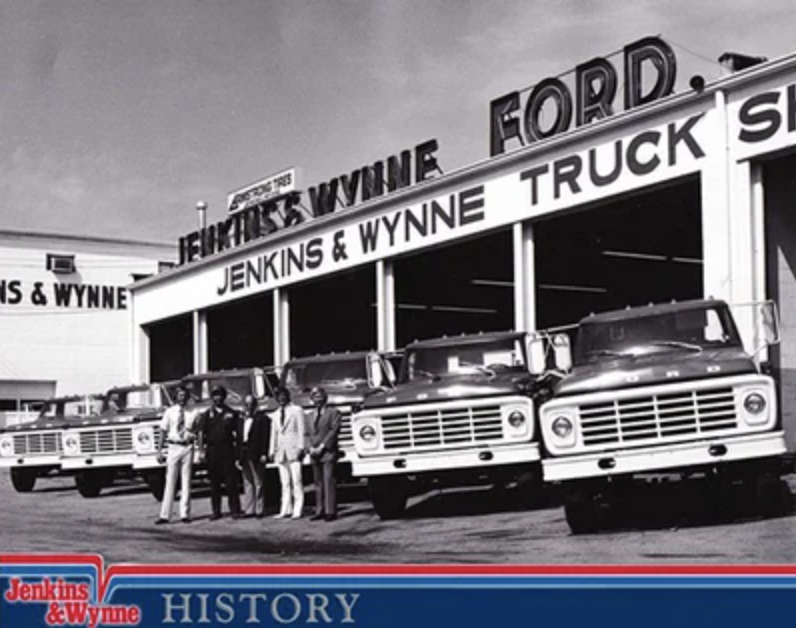 Whether change was forced by a devastating Fire (1968) or the Tornado (1999) that heavily damaged property, buildings, and vehicles, Jenkins & Wynne has become stronger with the opportunity to re-grow with fresh beginnings.
Why such success during constant change? There was a reason. While Don Jenkins may have wanted to change his salesmen's suits and shoes, he wasn't about to change the company's operating principles of fairness, honesty, and knock-your-socks-off-service. "Anybody can sell you a car one time," Jenkins says, "but it is service after the sale that brings you back."
"The goal is not to sell a car but to build a relationship," he says. And that requires employees with longevity. "When people come in to buy a vehicle, they want to see the same person time after time. They want a relationship."
At Jenkins & Wynne, they are likely to find a relationship. "Very few people leave our dealership once they start working here" Jenkins says. "That's a significant achievement when you consider that the dealership has over 250 employees. The average manager has been here 20+ years." General Manager, Murray Keeter, has been a vital part of Jenkins & Wynne's success as he has been the faithful backbone for over 50 strong years. He recently retired from Jenkins and Wynne after 55.5 years. Now, Larry Schulz is the GM. Larry started working at Jenkins and Wynne while in college. He has been at Jenkins and Wynne for over 35 years. Murray trained Larry to be the GM for about 5 years.
With the long-standing relationships and over 1,000 vehicles for sale- it's clearly a winning formula. Jenkins & Wynne is one of the largest Ford-Lincoln dealerships in Tennessee and is consistently ranked at the Top of the Region for Sales and Customer Satisfaction.
In recent years, Don Jenkins has been awarded TIME Dealer of the year for TN in 2011 (one Dealer chosen in every state each year for Community Impact) and Salute to Dealers in 2018 (6 are chosen in the WORLD each year for Community Impact). Don is on the Austin Peay Board of Trustees for TN and was appointed by Gov Haslam. Don also volunteers on the Industrial Board and the Economic Development Council to recruit business to Clarksville. In 2021, Don was awarded the Robert R Welch Founders Award from United Way.
Recently received the following honors: the APSU Alumni Associations Outstanding Service Award, the Candlelight Ball Wendell Gilbert Award and the Tennessee Board of Regents Chancellors Award for Excellence in Philanthropy.
Jenkins adds that as nice as awards and rankings are, the most meaningful "recognition" is the kind that happens between a customer and a member of the dealership's staff. It's about stability, longevity, and managed growth. "I want to be here for customers when they buy not only this car but the next one. And the next one. We have numerous customers who have bought more than 25 vehicles from us," Jenkins says.
"Right now, 92% of our customers are repeat customers," he adds. "The national average is 33%. I found that when our employees are happy, they will make our customers happy."
Jenkins' goal? To embody the expression "Like father, like son." "If I can be 50 percent of the man my dad was, I'll feel like I've succeeded in life."
Don and Sandy Jenkins have 2 children. Casey Jenkins and Blake Jenkins. Casey and Blake both graduated from National Automotive Dealer Academy in 2012, which is a year-long hands-on education of all aspects of a Dealership.
Unfortunately, things took a tragic turn when Blake died in November 2013 unexpectedly at age 30. Blake graduated from Austin Peay State University with a Business Degree in 2005. He was a member of the Pi Kappa Alpha Fraternity and married the love of his life: Fran Jenkins. Fran has worked in the e-Commerce Department from 2005 to 2016. Blake started working at the store before he could drive. Blake worked in Parts, Service, Sales, Finance, and was a Manager. Blake and Fran have 2 children: Chloe and Carter.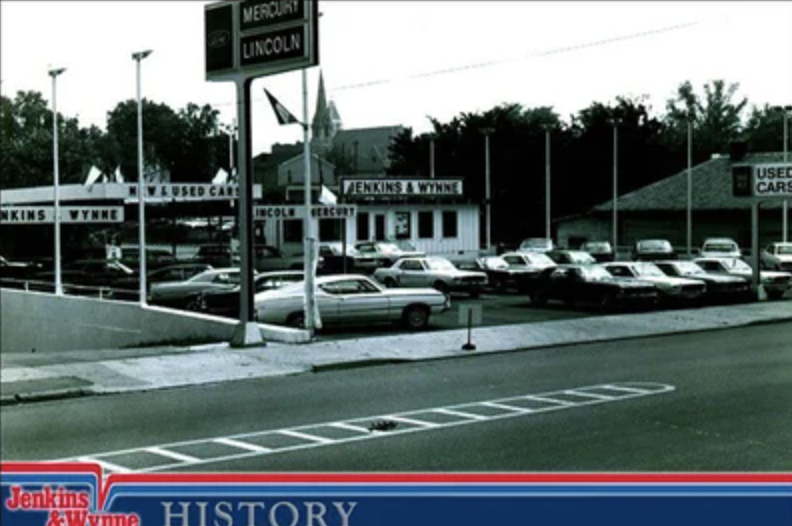 Currently, Casey works at the dealership and sees her future as "promising with endless opportunities" as she continues the family-owned and operated tradition. Casey graduated from Murray State University with a degree in Education in 2003. Other than her graduation from NADA Academy in 2012, Casey has received many other professional honors. In 2012, Casey was one of the speakers at the Ford Motor Company Grassroots Dealer Meeting in Detroit. In 2014, Casey was honored with the Automotive News '40 Under 40″ recognition as a high achiever. She has held many positions within Ford Motor Company such as: Ford Young Leader, Consumer Experience, Marketing and Dealer Advisory Board, Learning Journey and Ford Direct. Since 2007, the e-Commerce Department, where Casey spends a majority of her time, at Jenkins & Wynne has ranked in the top 10% of Ford stores in the Nation. Casey is involved with Young Life, Cougar Booster Club, Austin Peay Athletic Board, Austin Peay Executive Board and is a Girls on the Run Coach! She is the recipient of APSU 'Spirit Award.' This is an honor for individuals who have significantly contributed to Austin Peay through sustained service, made a generous contribution to the University or brought recognition to APSU through their success. The honorees exemplify excellence and integrity and their accomplishments inspire others. Casey also was awarded the Ambassador Award for United Way.
She is passionate about the work her family does through their foundation, Having Hope, Having Bipolar. To date, they have raised over $100,000 for Bipolar disorder awareness, specifically for brain mapping research in children to learn early detection signs. Her brother, Blake Jenkins, passed away in 2013. She believes that if their efforts can save even one life, and if they give hope to people or families who deal with Bipolar disorder, their mission will be complete.
In 2019, she was appointed by Montgomery County Mayor Jim Durrett to serve on the Montgomery County Sports Authority Board of Directors. In that role, she has helped to oversee the negotiations and building of the new Multi-Purpose Event Center (MPEC) in Clarksville. The project is being completed through a partnership with The Nashville Predators and APSU athletics. Once the MPEC is completed in fall 2022, the board will oversee the managing of the building, as well as revenues and budget.
In her spare time, Jenkins enjoys competing in Ironman Triathlons. She has completed two Full Ironman Triathlons, three Half Ironman Triathlons and countless marathons and triathlons of all distances. In 2020, she ran 2,020 miles, including 40 miles on her 40th birthday.
Casey and her husband, Chas, have 3 children: Zach, Chandler Kate and Jenks.